Land Between the Lakes
Land Between the Lakes is a 170,000 acre national recreation area located between Kentucky and Barkley lakes. LBL offers 200 miles of trails for hiking and biking, along with a 2,500 acre area reserved for Off-Highway Vehicle use. It is home to the Nature Station, The Homeplace 1850, the Golden Pond Planetarium and Observatory and the Elk and Bison Prairie, all of which offer a variety of scheduled events, exhibits and in-field programs throughout the year. 100 Van Morgan Dr., Golden Pond, KY 42211 / 270.924.2000
Venture River Water Park
Located in Eddyville, Venture River offers 7 exciting slides, a wave pool, a large kiddie pool with slide, a lazy river with action waves and sand volleyball. Open Memorial Day - Labor Day. U.S. 62, Eddyville, KY 42038 / 270.388.7999 Happy Trails Riding Stables Located just outside of Eddyville, Lake Barkley Driving Range Open Mon. - Thurs. 9 a.m. - 8 p.m.; Fri. & Sat. 8 a.m. - 8 p.m.; Sunday, Noon - 4 p.m. 776 KY 93 South, Eddyville, KY 42038 / 270.388.4098 / 270. 625.2909 (Cell) Adsmore Museum This historic home is open Tuesday thru Saturday 11 a.m. - 4 p.m., Sunday 1:30 p.m. - 4 p.m. 304 N. Jefferson St., Princeton, KY 42445 / 270.365.3114
Lyon County Museum
Located in Old Eddyville, the Lyon County Museum displays a simulated model of an iron furnace along with information on local and regional history. The home is listed on the National Register. P.O. Box 811, Eddyville, KY 42038 / 270.388.7322 Suwanee Flea Market Held Friday thru Sunday, 8:30 a.m. - 4:30 p.m. U.S. 62, West in Suwanee

Kentucky Opry Theatre
Live Country Music Variety Show ! The Kentucky Opry Theatre offers tour groups and families the best in wholesome, clean, music, comedy and Grand Ole Opry Stars. Branson style shows year around. For some great fun and etertainment see the Kentucky Opry your next trip or vacation. Located at Benton, just 5 miles south of Kentucky Dam.
Grand Rivers Village Playhouse
Come Celebrate music and entertainment from our country\'s past and present. This Branson-style family show features a dynamic cast of singers, dancers, and a live band.
The Red Door Antique Mall
5,000 + sq. ft. of Great Antiques, Collectibles & Uniques! Open 7 days a week, 9 a.m. - 5 p.m. I-24, Exit 40, 3.5 Miles East on Hwy. 62, then left on Hwy. 641 N. at the caution light. U.S. Hwy. 641N, Eddyville, KY 42038 / 270.388.1957
West KY Factory Outlet
Offering national brands & designer labels at factory direct savings, up to 70% off retail. U.S. 62/641, Eddyville, KY 42038 / 270.388.7379
Lake Barkley Tourism Information
Lake Barkley's Official Playground
Lake Area Information
ExploreKentuckyLake.com is the largest website for information on Kentucky Lake, Lake Barkley, and the Land Between the Lakes. The site contains hundreds pages of pure, original content on lodging, fishing, attractions, local demographic information, history, etc.
Kentucky Western Waterlands
All the Lake Area Information you need. From Area Attractions to Events!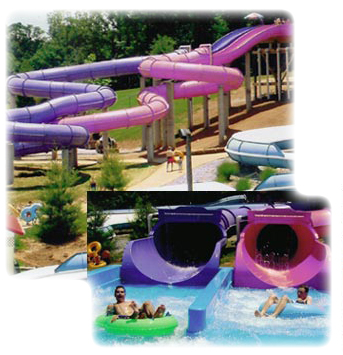 Courtesy Venture River Water Park in Eddyville